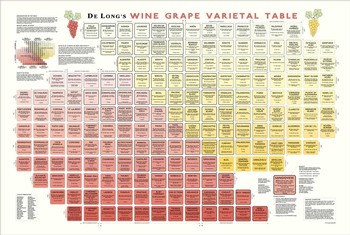 WINE CHART
Learn About Wine Grapes the Visual Way.
The Wine Grape Varietal Table is wine reference disguised as a fine art print. Hang it anywhere you drink wine and you'll find yourself referring to it again and again. 184 of the world's favorite grapes organized by body and acidity.
Clearly see the "big picture" of wine grape varieties and how they relate to one another.
An attractive addition to any tasting room or wine cellar
The accompanying reference book, The Wine and Grape Indexes, is the most comprehensive index available of the grape varieties used in worldwide wine appellations. And helps to answer the bacchanalian question: what grape am I drinking?
Makes a great gift for all wine lovers.
24 by 36 inches, expertly printed on heavyweight acid-free archival paper.